2011 Pomegranate Prize Recipient
Rabbi Shira Koch Epstein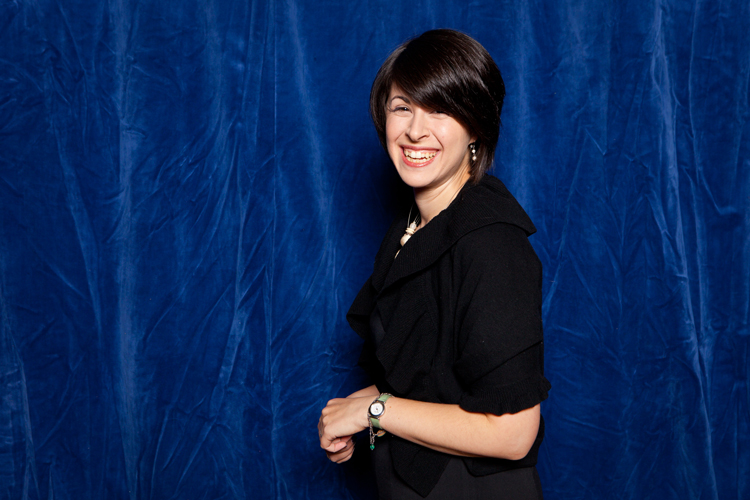 There's been a lot of noise lately at the 14th Street Y. Take one evening last June, for instance, when at least 500 people streamed into the building for "Into the Night," the Y's Tikkun Leil Shavuot offering nearly 12 hours of overnight Jewish study, conversation, ritual and performance.
The event was a first for the East Village center, which is gaining traction and attention, and notable for the neighborhood itself as a purposeful effort to engage a disparate population of Jews.
No one disputes that Rabbi Shira Koch Epstein, a 2011 Pomegranate Prize recipient who took charge at the 14th Street Y earlier in the year, is the one creating all this noise.
Upon becoming executive director at the Y, Rabbi Koch Epstein immediately began using her skills as an impact-seeking educator, leader and advocate to advance the institution, build coalitions between and among organizations that historically haven't communicated, and refashion the neighborhood in a way that only started with Tikkun Leil Shavuot.
"I knew from congregational experience that in comparison to other holidays, it is a challenge to create robust programming for Shavuot," says Rabbi Koch Epstein.
"It's not a home-based ritual holiday. It's Torah, so it's not like people say – 'Hey, what are you doing for Shavuot?' It was a challenge, but one I wanted to take."
She leveraged the holiday to spearhead her first major programmatic initiative, an undertaking involving partnerships with about two-dozen area synagogues and community organizations, and offering her vision for the institution and its place in the neighborhood.
The rich programming and high turnout – and the forces that converged to make it happen – were a turning point for the 14 th Street Y and for the surrounding East Village.
A bustling area of Lower Manhattan inhabited by students, young professionals, families and seniors, it is measurably overshadowed and outpaced in its grade of Jewish community cohesiveness and engagement by other areas, such as the Upper West Side and parts of Brooklyn.
"There has been no coordinated community effort down here," Koch Epstein says. "The time is ripe to create some energy, put it on a greater platform and allow this area to come into its own in a Jewish way."
The heads of partner organizations agreed, and identified Rabbi Koch Epstein as the catalyst for moving a stalled neighborhood forward Jewishly.
"This was a landmark event for the downtown community," says Rabbi Larry Sebert of Town and Village Synagogue, which is next door to the 14th Street Y and was one of the partners for Tikkun Leil Shavuot.
"Shira recognized immediately that greater impact can be made if we all worked together," he says. "Sometimes people in the Jewish community are hesitant to move out of their comfort zones. She made us feel comfortable and see value in cooperation and collaboration."
Rabbi Koch Epstein is the first to say that this seminal event was the result of a concerted, collaborative effort, albeit one that she jump-started. And rather than creating and offering a singular event to the community, it is momentum that she now seeks to remake it.
"I am interested in Jewish projects that don't have ritual at their heart, but that are community based," she says. "People may not be consciously seeking ritual, but they are consciously looking for community. Education is about building those relationships and creating a place where interest is peaked, where inquiry is welcomed and encouraged."
An outcome of Tikkun Leil Shavuot has been the establishment of once-a-month Saturday programming offered by multiple neighborhood organizations, geared to a multi-generational audience and creating new connections among participants.
And under Rabbi Koch Epstein's leadership, the nationally known LABA program – marrying classic texts, original art, and thought – continues to expand and reach new audiences. The initiative was just cited as one of the most innovative Jewish programs by Slingshot, and the National Endowment for the Arts recently announced a grant for the LABAlive series, which showcases original art from a selected group of artist fellows multiple times a year.
When she was named a Pomegranate Prize recipient, Rabbi Koch Epstein was the Associate Rabbi and Director of Youth and Family Education at Congregation Beth Elohim in Brooklyn. The synagogue has achieved national prominence as a model for engaging unaffiliated Jews.
There, she was instrumental in remaking the educational components of the synagogue and positioning CBE's Shabbat program as a reflection of the institution's commitment to family education, and making it one of the most widely subscribed and attended offerings.
"She led a fantastic revolution in educational life at CBE and helped establish what a lot of synagogues need, but few actually achieve," says Rabbi David Adelson of East End Temple in Manhattan, who is a member of CBE and whose two young children attend its religious school.
"She integrated the religious school into the life of the whole synagogue so that children are not just learning, but practicing in a living community. She was able to infuse education into Shabbat and ritualistic life. The educational plan there is relevant and vibrant and it has rightfully earned attention."
Rabbi Koch Epstein admittedly wears many hats – administrator, manager, clergy member, and leader. But it is her role as educator that she says drives her, and suffuses all of her roles.
"The best part of what I do and want to do is help people who are Jewish, or who identify with Jewish tradition, form dynamic interrelationships that transform individuals and communities for the better."