Publications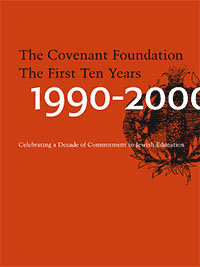 The First 10 Years
In presenting this ten-year retrospective of the Covenant Foundation, we acknowledge the generational character of its history in two ways: first, in purpose, as an entity devoted to enhancing the role of teachers as shepherds of future generations; second, the Foundation, itself, was conceived of by two cousins of the third generation of the Crown family.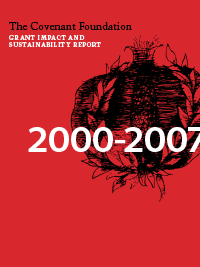 Grant Impact and Sustainability Report 2000-2007
The Covenant Foundation's Grant Impact and Sustainability Report is a description of Covenant Foundation grants from 2000 to 2007 and an analysis of those that have grown, those that were valiant attempts but are no longer active, and the lessons we have gleaned from these results. The work was conducted by Rosov Consulting, LLC and written by Dr. Tobin Belzer. It was edited by Dr. Meredith Woocher. Dr. Woocher introduced the Lead Impact Categories in order to encourage the reader to examine these projects through diverse lenses.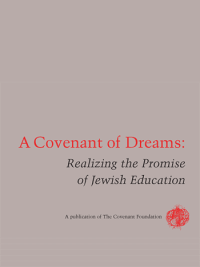 Covenant of Dreams
"A Covenant of Dreams: Realizing the Promise of Jewish Education," a 128-page commemorative book published by The Covenant Foundation to mark its 18th "chai" anniversary, celebrates in words and pictures the glorious work of those who have received Covenant Foundation grants and Covenant Awards during the last 18 years. It is dedicated "to the thousands of people across North America who seek to keep the Covenant every day."Sample some of the moving images captured by famed photographer Zion Ozeri, the meaningful words of awardees and grantees, and an accompanying video produced by documentary filmmaker Pearl Gluck.