2011 Pomegranate Prize Recipient
Gilah Kletenik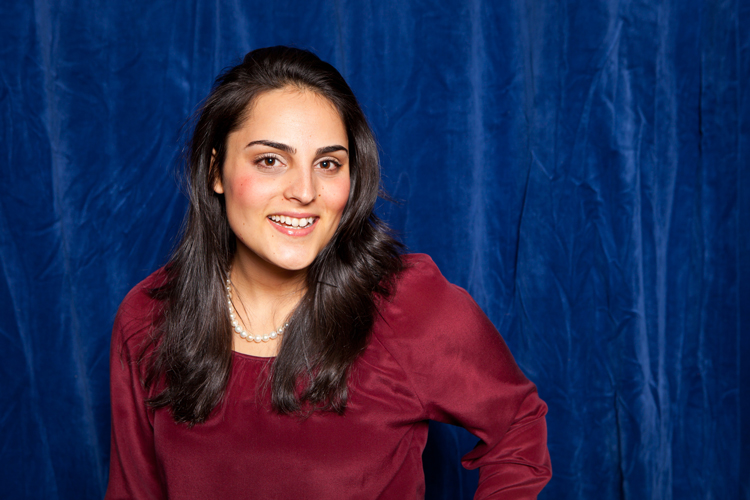 When Gilah Kletenik announced that she would no longer teach Talmud so she could concentrate on her doctoral studies, her students erupted in protest. "They are so enamored of her and literally begged her to reconsider," says Joel Katz, president of Congregation Kehilath Jeshurun in New York, where Kletenik was Congregational Scholar. "They were ready to hire her themselves if necessary."
So even as Kletenik moved on from her full-time duties at the synagogue last summer, she is still there every Monday morning teaching Talmud to about a dozen very relieved adults.
"There is not one person sitting in her class who isn't just blown away," says Zella Goldfinger, one of Kletenik's Talmud students. "She is constantly reminding us how incredible and meaningful and accessible Talmud is, and shows us the universal humanity in it all."
Kletenik has had an enormous impact on a whole lot of people who have observed and learned from a scholar and clergywoman who brings her own unique approach and interpretation to Jewish study, and makes it palpable and worthy of discussion and debate.
Consider a sermon she delivered citing congregants' daily pilgrimage to Starbucks and the way that Jewish law adapts to and interacts with modern culture. Reflect on the sermon that examines fashion to consider the embrace of aesthetic beauty epitomized by the Jewish notion of the Holy. Revisit her teachings, informed by ancient Near Eastern texts, early Talmudic manuscripts, or modern philosophy.
"I encourage people to rethink and reimagine what it means to be a Jew and to examine Jewish text, ritual and history through a prism that is life affirming, intellectually rigorous, and engaging," Kletenik says. "I'm interested in a dynamic approach that considers how previous generations negotiated their Jewish identity and how this informs our ongoing negotiation."
This is a young scholar who has Jewish study and education etched deeply into her genes. Her grandfather is a rabbi, as is her father, and her mother is a nationally known Jewish educator and recipient of The Covenant Award for excellence and impact in the field.
Gilah was already teaching Sunday school classes to third and sixth graders by the time she was 14, and making observations even then about how to teach and how she wanted to evolve as an educator.
"When I was a high school student, I was not riveted academically," she says. "Sitting in class, I'd say to myself, 'Gilah, when you are a teacher, you won't do this, or you will do that, or you will find a better way to interact with students or a more honest way to study text.' That was my first training as a Jewish educator, determining how I could do it differently, and more effectively.
"It's important to create a safe space where students can ask and challenge, and where there is no expectation that they believe or think a certain way," she continues.
While Kletenik's impact is a direct result of her deep and continuing scholarship and her commitment to transmitting it in a relevant and open way, it cannot be overlooked that she commands attention and respect for pushing some limits as well.
As Congregational Scholar at Congregation Kehilath Jeshurun and as a teacher at the nearby Ramaz Upper School – where she has taught advanced Talmud to 11th graders – Kletenik has assumed positions within Modern Orthodox congregational and educational life that are rarely, if ever, occupied by women.
She admits that distinction has given her a rarefied niche, but is intent on not dwelling upon it.
"There is an impact that derives from being a woman, but that is only the beginning," she says. "My contribution at Ramaz was rooted more in my teaching methods and how I approached Talmud study with my students," she adds.
"And while at Kehilath Jeshurun it was a big deal for a woman to be filling this role," she continues, "what I offered was much more than that. And this is evidenced by the classes that I taught, the sermons that I gave, their caliber and the thinking that they generated."
Others, however, are more direct about Kletenik as a trailblazing leader within the Modern Orthodox movement, both as a woman and as an educator willing to take risks, and moving the needle as a result.
"She has forced us all to see where certain lines exist, why they are there, and the extent to which they can be pushed a bit," says Katz, the congregation's president. "But in so doing, she always respects the context of tradition and looking for ways to merge it with her world. She is remarkable in that way. People like that actually push the world to a different place."
Rabbi Elie Weinstock, the Associate Rabbi at Kehilath Jeshurun, framed her impact differently. "There is a hole in our professional team now that she has moved on to pursue her doctoral work full-time," he says. "But Gilah having been here highlights the change and relationship-building that can be created through great teaching."
Kletenik says that winning the Pomegranate Prize in 2011 served as an affirmation of the work she was doing at the time at Ramaz and Kehilath Jeshurun, and an opportunity to be part of a learning cohort with other dynamic young educators, whose energy and perspectives will inform her throughout her career.
The Prize also fueled for her a summer of study in Berlin, examining German-Jewish philosophy and Jewish history, all areas relevant to her current doctoral studies in Jewish philosophy at New York University.
"Every single day offers meaning and affirmation," she says. "There is a real truth in the notion that grandness lies within the daily routine. It is a student telling me that a class is stirring. Or it is a pupil remarking that he or she never thought of something from a certain perspective. Every time I have the opportunity to learn with others, it is a gift."