Five emerging Jewish educators received the 2016 Covenant Foundation Pomegranate Prize today, recognized for their tremendous promise, focused leadership and willingness to take risks in their burgeoning careers.
The 2016 recipients are: Rabbi Adam Greenwald, Director of the Louis & Judith Miller Introduction to Judaism Program at American Jewish University in Los Angeles, CA, Rachel Harari, Department Chair and Teacher of English Language Arts at Magen David Yeshivah High School in Brooklyn, NY, Alex Jakubowski, founder and Executive Director of KAHAL: Your Jewish Home Abroad in Chicago, IL, Leah Kahn, the Rabbi Martin Ballonoff Memorial Senior Jewish Educator at Berkeley Hillel in Berkeley, CA, and Greg Kellner, Director of the URJ 6 Points Sci-Tech Academy in Byfield, MA.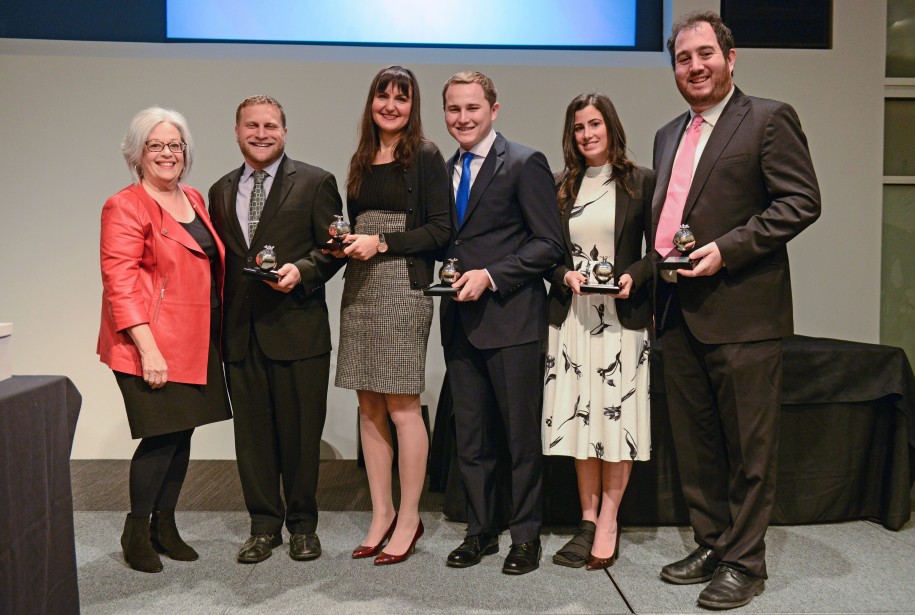 The Pomegranate Prize, inaugurated in 2011, is designed to honor rising leaders who have been in the field of Jewish education for up to ten years. By encouraging Prize recipients in their pursuits, enabling them to accelerate their professional development, and amplify their impact on the field, The Covenant Foundation aims to nurture Pomegranate Prize recipients in an intentional way, and empower them to take risks and make a difference in the field of Jewish education.
Five educators join the Pomegranate Prize cohort each year. Over a three-year period, the recipients have multiple opportunities to connect with thought leaders and extraordinary educators from across the spectrum of Jewish life.
The Prize stands next to The Covenant Award, which since 1991 has honored three exemplary Jewish educators each year for innovation and impact across Jewish education settings.
"It is clear that this distinct group of creative, talented, and passionate Jewish educators will add tremendous value to the field of Jewish education for many years to come," said Cheryl Finkel, incoming Board Chair of The Covenant Foundation, as she presented the Prize to this year's recipients. "We look forward to enthusiastically supporting them as they develop new ideas, build relationships with one another and work together toward a promising future."
The 2016 cohort joins an expanding network of up and coming Jewish educators—there are now 30 in the group. Together, they represent some of the most talented and creative young leaders working in the field today.
In addition to the the presentation of the Pomegranate Prize, the breakfast program included a presentation by Kevin Carroll, Speaker, Change Agent and Best-Selling Author of Rules of the Red Rubber Ball and The Red Rubber Ball at Work, and Hanan Harchol, Creator, Writer, and Animator of the online series Jewish Food for Thought, and Film and Video Teacher at the High School of Art & Design in New York City.
Following the presentations, Harchol introduced a new video message app launched by the Foundation in honor of the 25th anniversary. The app, titled The Covenant Foundation Voices, is available for free download in the App Store and Google Play. It allows users to create a 20- second video thanking a great teacher and instantly post the video message to social media. Covenant Foundation Voices is part of a yearlong 25th anniversary campaign aimed at engaging the community around the conversation of great teaching, and continuing to acknowledge and support outstanding teachers.
"Very few educators teach to be thanked," said Harlene Appelman, Executive Director of The Covenant Foundation. "Rather, they teach because it's in their bones, in their hearts and in their souls. This Thanksgiving season, let's join together and show our teachers how much they matter by thanking them. And who knows? A campaign of gratitude might be the first small step we need to take to restore civility to our community, our society, and our world."
Biographical snapshots of the 2016 Pomegranate Prize recipients:
Rabbi Adam Greenwald is the Director of the Louis & Judith Miller Introduction to Judaism Program at American Jewish University, the largest learning program for those considering conversion to Judaism in North America. He also serves as a Lecturer in Rabbinics at the Ziegler School of Rabbinic Studies. Adam is the editor of On One Foot, an introduction to Judaism course book and curriculum, used by dozens of communities and congregations nationwide. His writing has also appeared in the Washington Post and Jewish Journal. Prior to the Miller Program, he served as the Revson Rabbinic Fellow at IKAR in Los Angeles. Adam is a Phi Beta Kappa graduate of UCLA and was ordained by the Ziegler School of Rabbinic Studies in 2011. In 2014, The Forward named him one of "America's Most Inspiring Rabbis."
Rachel R. Harari is the Department Chair and a teacher of English Language Arts at Magen David Yeshivah High School in Brooklyn, NY. Inspired by Project Based Learning, Rachel aims to engage students by demonstrating real world skills and how to apply them in the ever-changing, post-textbook world. Rachel is also faculty advisor of the school's newspaper, The Flame, and literary journal, The Quill, both recipients of national awards. Rachel received her M.S. in Special Education from Brooklyn College and her B.S. in English Education from the honors program in New York University, where she published her research on mathematics anxiety in elementary school students: "Mathematics Anxiety in Young Children: An Exploratory Study."
Alex Jakubowski is the founder and Executive Director of KAHAL: Your Jewish Home Abroad, which facilitates transformative experiences for Jewish study abroad students. He graduated cum laude and with honors in Classics from Northwestern University. Active in politics, Alex has served in senior roles of several local and national political campaigns. His writings have appeared in The Daily Caller, The American Spectator, Jewish Journal, eJewishPhilanthropy, and several other news outlets and blog sites. As Executive Director of KAHAL, Alex was selected for the Core18 Leaders Lab fellowship as well as for the Chicago cohort of UpStart. Alex is a board member of the Tau Delta Foundation and an active member of AIPAC, Alpha Epsilon Pi, JCYS, the Fraternal Order of Police, the Illinois Firefighters' Association, the JUF, and various other Chicagoland Jewish organizations and synagogues.
Leah M. Kahn is the Rabbi Martin Ballonoff Memorial Senior Jewish Educator at Berkeley Hillel, where she has spent the last few years building the Berkeley Hillel Fellowship Program. Leah was the first experiential educator in the Pardes Experiential Education Program and was instrumental in creating the model for Jewish professionals to become serious experiential educators. Leah built a new engagement strategy while at the University of Chicago Hillel, attracting a diverse array of students. She has written and developed a wide range of curricula on conflict resolution, Israel, and experiential education. A modern dancer and certified yoga instructor, Leah designs innovative approaches that integrate movement with traditional Jewish content. Leah holds a B.A. in Arts Management and Dance Performance from Columbia College Chicago, an M.A. in Jewish Professional Studies and Experiential Education from the Spertus Institute of Jewish Studies, and a certificate of Jewish Studies from the Pardes Institute of Jewish Studies.
Greg Kellner is the Director of the URJ 6 Points Sci-Tech Academy and has been part of the URJ Camps and NFTY family for over 20 years as a camper and staff member. Before joining the 6 Points team, Greg served as the Senior Assistant Director of the URJ Crane Lake Camp and as the Assistant Director of the URJ Eisner Camp. Greg spent five years as the Youth Advisor for Temple Sinai in Washington, DC. His passion for Judaism, technology, and music met when he produced and launched XM Satellite Radio's "Radio Hanukkah," a radio station dedicated to Jewish music. He is an alumnus of the Yitro Leadership Program, a professional development program for assistant camp directors through the Foundation for Jewish Camp. Greg holds an M.A. in Public Administration in non-profit management from CUNY Baruch College and a B.A. in Music from American University.
The Covenant Foundation is a program of the Crown Family Philanthropies